Travel
best things to do in the Brazilian state of São Paulo
The biggest city in Brazil justifiably hogs the superlatives — the biggest this! The most that! The tallest this! The longest that! — but São Paulo is not only about its headline-stealing concrete jungle of a capital.
The state of the same name plays no second fiddle, clocking in at slightly bigger than the United Kingdom, much of it rolling pastoral countryside, jungly Atlantic rainforest and sun-toasted shoreline ripe for exploring.
There are numerous skyscrapers you can scale for a head-spinning view of the São Paulo city skyline (Edifício Copan, Edifício Itália, Hotel Unique to name but a few of our favorites) but the Art Deco Farol Santander building is the most tourist-friendly choice.
Dating to 1939, the building was completely revamped in recent years and now houses a museum and astonishing top-floor observation deck, offering views out to horizon-dominating high-rises that will simply floor you.
Eating Pizza Paulistana
São Paulo city is one of the Southern Hemisphere's most dynamic gastronomic landscapes, and you can follow your palette in any number of directions. The city boasts can't-miss Japanese cuisine (São Paulo is home to the world's largest Japanese population outside Japan), but far more surprising is its place among the world's great pizza cities.
São Paulo-style pizza — Pizza Paulistana — often bucks many of Italy's traditional rules in favor of copious cheese and more daring ingredients such as boiled eggs or sage leaves.
Exploring Parque Ibirapuera
As far as urban parks go, beloved Ibirapuera isn't the prettiest or the greenest, but from a cultural and architectural perspective, the city's favorite green space boasts an impressive laundry list of attractions.
Famed Brazilian architect Oscar Niemeyer designed several prominent buildings within the leafy 494-acre park, including the marvelous Marquise, a massive, wavy marquee supported by 121 columns.
Round that out with excellent museums such as the Museu Afro-Brasil, Museu de Arte Contemporânea, Museu de Arte Moderna and you have yourself a wonderful day off the concrete.
Beach-hopping in Ubatuba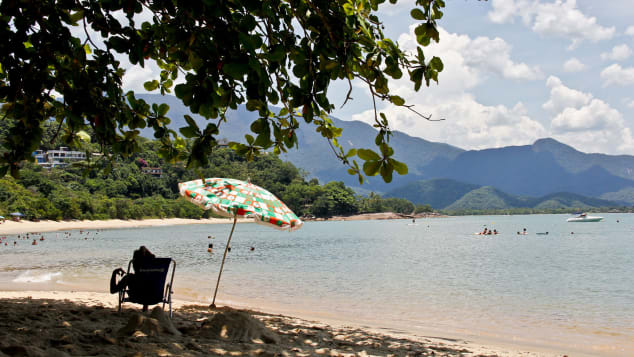 The prettiest stretch of the Paulista coastline is monopolized by Ubatuba, a magical beach-blanketed promised land backed by stunningly green Atlantic rainforest riding up and over the Serra do Mar mountains like a Jolly Green blanket.
At Pousada Picinguaba, understated luxury prevails in an idyllic fishing village that makes for a perfect base for exploring the region's 100 beaches and numerous islands.
Shopping in Embu das Artes
Founded in 1554 just 18 miles northeast of São Paulo city, this once-small village hosts a longstanding artisanal weekend arts-and-craft fair that's one of the city's best days out.
Boosted by its bohemian population of artists, hippies and intellectuals, Embu's colonial core is packed with galleries, antique shops and other crafty stops along with a bevy of fun bars and restaurants to fuel the crowds. Sunday is the best day to visit.
Feira de Embu das Artes, Largo dos Jesuitas, Embu das Artes, SP
Wandering Mercado Municipal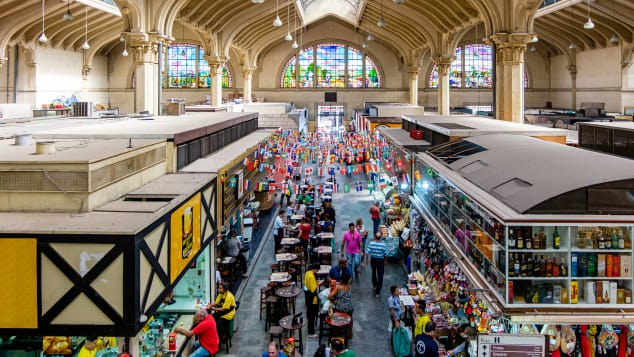 São Paulo city's urban market, know colloquially as "Mercadão" ("Big Market"), is a Belle Epoque beauty of stained glass and regal columns designed by architect Francisco de Paula Ramos de Azevedo.
The massive covered market, inaugurated in 1933, features a kaleidoscopic mélange of tropical fruits; rows of exotic spices and homemade hot sauces; and food stalls galore. Munch on local specialties such as piled-high mortadella sandwiches from Bar do Mané or Hocca Bar or pasteis (fried pastries) stuffed with all manner of Brazilian bounty.
Strolling Avenida Paulista
São Paulo city's premiere thoroughfare is lined with towering modernist skyscrapers and measures a mere 1.7 miles in length, but it hides numerous gems among the giants that make this Manhattan of Brazil a worthwhile addition to your city tour.
Whether it's clambering to the 17th floor viewing deck at the new SESC Paulista, taking in Latin America's most comprehensive collection of Western art at the iconic Museu de Arte de São Paulo (MASP) or immersing yourself in Brazilian-Japanese cultural exchanges at the stunning Japan House, a walk down Paulista feels like you are traversing the center of the universe.